CHARBRAY CATTLE – a breed in a class of their own.
Are you looking for bulls that are fertile and will produce small calves that grow quickly which will convert to money?
Answer: Charbray will suit you.
Do you require cattle that are sound in the legs and feet and can walk many kilometres after the cows and heifers?
Answer: Charbray.
Do you want cattle that are quiet, easy to handle and pass this trait on in the breeding cycle?
Answer: Charbray.
If you answered 'yes' to any of the above, then contact us! Even if you answered 'no' to any of the questions, please contact us anyway!
Top quality bulls and heifers now available for sale at Bunjurgen Charbray.
INAUGURAL BULL & FEMALE SALE ON LINE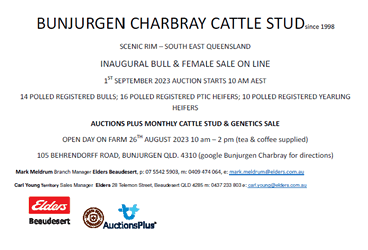 Click or tap here to see larger image
Why Charbray?
Charbray cattle fits all markets. They have lower birth weight, good weight gains and early growth. Read more here!
History of Charbray
The founders of the Charbray Society used charolais and brahman cattle to obtain the charbray breed. More on the history of Charbray... here!
Purchasing Charbray
One of the leading Charbray Society breeders is the Bunjurgen Charbray Cattle Stud.... purchasing information